3 Star Umrah Packages For 12 Nights
6 Nights Makkah, 6 Nights Madina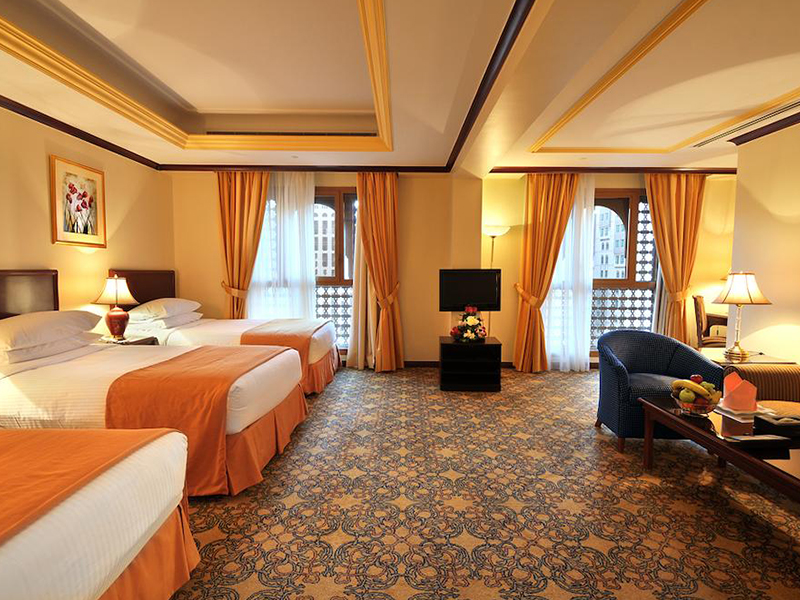 Hotels
Dar Al Eiman Al Sud Makkah Hotel (Or Similar With Quad sharing Room):
The marvelous package offers 6 days stay in the renowned 3-star hotel Dar Al Eiman Al Sud which is situated in the holy city Makkah and it is 700m away from Haram Shareef. This package permits Quad sharing Room in the hotel with the accommodations of air conditioned rooms with LCD televisions etc.
Elaf Al Nakheel Madinah Hotel (Or Similar With Quad sharing Room):
A 6 days stay in the famous Madinah's hotel Elaf Al Nakheel is also offered in this package. This 3-star hotel is located at a walking distance of Masjid Al-Nabawi and Al-Baqi. It is quite near to the other holy places like Masjid Al-Qiblatain, the Quba Mosque and Mount Uhud which makes it a unique hotel among all others. Relaxing Quad sharing Rooms facility is also given to the honored clients.
Flights
The most astonishing Middle East Airlines Indirect Flight with reasonable prices are available which provides a lifetime experience of travel.
Visa
Visa: is also included in the package but mofa's applications charges will apply.Anyone can apply for visa.
Male: No requirement.
Female: Under 45 may not go for Umrah without Mehram.
British Passport Holders: Only passport required.
Other Passports Holders: Need to bring previous passports and current passport with utility bill or telephone bill or bank statement.
£713.00 Inc. Tax
Visa
6 Nights in Makkah
6 Nights in Madina