Economy Umrah Package 2021(Quad Share)
5 Nights Makkah, 3 Nights Madina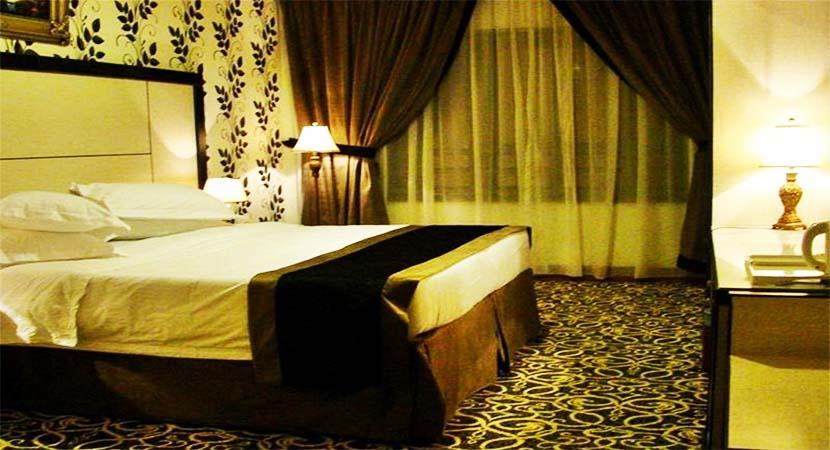 Hotels
Dar Al Eman Ajyad
Dar Al Eman Ajyad is just 300 meters away from the Holy Haram, situated on Ajyad Street in Makkah. It brags free Wi-Fi in public areas, 2 restaurants and an extensive lobby with a 24-hour front desk. The hotel, Dar Al Eiman Ajyad, belongs to the Dar Al Eimane group. It is located in the Ajyad neighborhood, 300 meters from Haram. It is a 4 star hotel.
Accommodation & Facilities
Dar Al Eiman Ajyad offers special, double, triple and quadruple rooms. The rooms are medium in size and well equipped. It features free Wi-Fi in the lobby and free shuttle service to and from Al Haram. The simply decorated rooms are fitted with printed carpet floors. Each room offers a satellite TV, a fridge and a wardrobe. The en suite bathroom includes a shower. Laundry can be arranged by the reception.
Location of Dar Al Eman Ajyad
Nearby shops and restaurants are within a walking distance from Dar El Eman Ajyad. King Abdulaziz International Airport is 100 km away. Al Azizia District is a 10-minute drive and King Abdul Aziz Jeddah Airport are 75 minutes away by car.
Services of the Dar Al Eiman Ajyad Hotel
This hotel has a restaurant that serves a variety of cuisines for all tastes throughout the day. Room service is available 24 hours a day. 24-hour front desk Air conditioning Facilities for disabled guests Free WiFi Free parking Internet services Lift/elevator Luggage storage Newspapers, Restaurant, Room service Safety deposit box Shuttle service (free) Snack bar WiFi
Flights
Two-way flight will be provided to our customers .Desired dates of Package will be given to our interested customers. It could be Direct Flight or In-direct Flight. According to availability and customer's desired option.
Visa
Visa is also included in the package but mofa's applications charges will apply.Anyone can apply for visa.
Male: No requirement.
Female: Under 45 may not go for Umrah without Mehram.
British Passport Holders: Only passport required.
Other Passports Holders: Need to bring previous passports and current passport with utility bill or telephone bill or bank statement.
NOTE: Mofa's application charges will apply.
Transport
Round Trip: Jeddah-Makkah Makkah-Madinah Madinah-Jeddah.
Madina Ziyarat: Masjid Quba, Masjid Qiblatain, Uhud Mountain, Dates Market, Seven Masajid, Burial site of shahids of uhud
Makkah Ziyarat: Minah Jamarat & Alkheef Masjid, Arafat, Jabal e Rahmat, Cave Hira, Cave Thawr, Muzdalifah, Mountain Of Al nour
Services
Travel Guide will also be included. Package could be customize on the dates requested. WIFI, room service, satelite television, etc. Also included.
£629.00 Inc. Tax
Visa
5 Nights in Makkah
3 Nights in Madina